Introduction
What can be more convincing than a table that you can carry to a picnic to hang out with friends or to your workplace, be it an office or a cafe, to the school, or even just as an addition to your lovely home furniture to add that extra charm? Folding tables are the most convenient and versatile products out there that are flexible and allow you to carry it anywhere you want at any time. Unlike regular solid tables, which are heavy and non-portable, folding tables are easy to set up, and their ability to fold is what makes it a favorite amongst many people.
Folding tables are popular among many households. Why? It is because they offer many advantages to your regular piece of furniture. Folding tables don't occupy a tremendous amount of space and provide satisfaction to their customers. They are clean, small, likewise readily storable, and quick to transport and easily fit in your car. Their adaptable size is what makes them a valuable investment.
So, what are you waiting for? Invest in one already! Based on customer ratings, we have arranged a list of products with their features, specifications, pros, and cons, respectively. Here is our list of the top 13 best folding tables.
The LIFETIME Adjustable Folding Table offers an adjustable design that allows multiple height settings. You can choose between 24 inches, 26 inches, and a 28 inches height setting. This is why a folding table is believed to be an ideal choice for your homework time, small crafts, snacks, or even quietly sitting at the couch for passing your time.
To give the Lifetime tables some added protection, it contains unique UV inhibitors to keep them from weathering. Not to forget the added benefit of the design being very easy to clean, making it perfect for any life events. With this folding table, you need not worry about scratching your beautiful wood flooring as the ends of the legs come covered with rubber caps.
Features
The folding table is made up of High-density Polyethylene material
It is perfect for home, office, and outdoor activities.
It has a lightweight design that folds flat.
It features a UV-Protected top and Powder-Coated Steel.
It is stain-resistant and easy to clean.
It features Superior strength and durability.
Specifications
Color: white granite
Shape: rectangle
Folded Dimensions: 40.4″ L x 17.9″ W x 1.8″ H
Capacity: 40 pounds.
Product Dimensions: 26 x 18 x 28 inches
Tubing Diameter: 0.7 inch
Item Weight: 8.6 pounds
Ratings: 4.8 out of 5 stars
---
Lifetime offers a folding table that is specially designed for kids. Children love to play with toys and eat snacks, so it is best to provide them someplace to sit and enjoy doing what they love to do the most.
This model comes with a one-hand adjustment setting making it easy to set up and comes in beautiful white granite with a gray folding frame. Powered by a two-year warranty, rest assured and leave your kids with full freedom. Give your curious kids a place to call their own home with a Lifetime kids picnic table.
Features
It uses Quick One-Hand Adjustment.
The table comfortably seats up to four kids.
It Folds Flat for Simple storage.
The table is highly durable and is made of high-density polyethylene tabletop.
It is stain-resistant and easy to clean.
It won't Crack, Chip, Rust, or Peel.
Specifications
Product Dimensions: 32.5 x 35.4 x 21 inches
Item Weight: 25.1 pounds
Manufacturer: Lifetime Products
Ratings: 4.8 out of 5 stars
Flash Furniture folding tables are very convenient and affordable. They are so multifunctional that you will wonder how you lived without them. The 34-inch square folding table proves to be beneficial in a variety of scenarios that include banquet halls, conference centers, cafes, schools, and your own house.
Be it your weekly card game, get together, or even for some extra space in the kitchen or living hall, the table can be set up as a temporary seating solution or holder every day. The table has a sleek design and allows quick cleans. This table proves its value by its commercial-grade standard to withstand everyday usage in the hospitality industry.
Features
It seats up to 4 adults.
Its durable blow molded top requires little to no maintenance.
It is easy to clean.
It features a thick granite white tabletop.
It has a waterproof, impact-resistant, and stain-resistant top.
It comes with powder coated grey locking legs.
The table legs are foldable, which makes storage more convenient for better portability.
Specifications
Product Dimensions: 34.2 x 34.2 x 29.5 inches
Shape: square
Color: white
Item Weight: 21 pounds
Load capacity: 220 lbs.
Ratings: 4.7 out of 5
---
This time Lifetime offers a 4-inch, Round and Light Commercial, Fold-In-Half Table that is like many others, constructed of high-density polyethylene. Like all the Lifetime table products, this folding table will not crack, chip, or even peel. This is why tables like these are the best choice for indoor and outdoor activities.
Of course, the revolutionary folding steel frame will provide a sturdy foundation and is also protected with a powder-coated and weather resistant finish. Be it your home, office, your next family dinner, or for parties! The round folding table is just perfect for you.
Features
It is lightweight and durable.
It has a stain-resistant surface.
It comes with UV inhibitors for added protection.
It comes with a unique folding design for the convenience of transportation and storage space.
It is built with superior stability.
It has a Durable Polyethylene Surface.
Specifications
Product Dimensions 47.9 x 47.9 x 29 inches
Color: White
Shape: round
Item Weight: 25.9 pounds
Ratings: 4.7 out of 5 stars
Lifetime brings you the multi-utility 4 feet height adjustable table and is the perfect companion for your hobbies. This beautiful table is with you wherever you go. It comes with three different settings in heights to accommodate your various needs and has the smoothest surface. When you are done with your important work, you can quickly fold up the table and store it in your best location.
Carrying the table couldn't have been more comfortable with its built-in comforting carry handle. The Fold-in-Half table comes with a patented combination of high-density polyethylene plastic with a honeycombed back design for extra rigidity resulting in a durable, stain-resistant, and a scratch-resistant table which requires very little maintenance.
Features
It allows Seating for four persons.
It has 24-Inch, 29-Inch, and 36-Inch Height Settings.
It Folds in half easily.
It has a Rust-Resistant Powder-Coated Steel Frame.
The top is UV-Protected with High-Density Polyethylene (HDPE).
Specifications
Product Dimensions: 48 x 24 x 29 inches
Color: white granite
Item Weight: 19.2 pounds
Shape: rectangle
Table Top Thickness: 1.4 inch
weight limit: 800 lbs.
Frame tubing diameter: 25mm
Rating: 4.6 out of 5 stars
---
Create more room for guests instantly with this convenient square black folding card table. It's the perfect way to provide extra seating when you need it. From events and banquets to game nights, it's a versatile piece perfect for any occasion. The foam-padded top is ideal for preventing cards from sliding off of the table.
This table can be used for gatherings, displays, arts, and crafts, and for eating. When no longer in use, fold the legs in and store away. The Flash Furniture Black Folding Card Table is a Multipurpose Folding Table.
Features
It is a Multipurpose Folding Table.
It has 130 lb. Distributed Weight Capacity.
It Can comfortably seat up to four Adults.
It has a thick Vinyl padded top backed up by Sponge Foam Padding.
It has Black Powder Coated Legs with protection by Plastic Floor Glides.
Specifications
Capacity: 300 lb. weight
Color: 2 Pack
Item Dimensions: 34.25 x 34.25 x 29.5 in
ratings: 4.6 out of 5 stars
Material Type: Plastic
---
Lifetime adjustable height folding tables are perfect for your home, office, and outdoor preferences. The Lifetime Folding table comes with a patented steel frame design which provides a sturdier base foundation. The 4-foot utility folding table is constructed using high-density polyethylene and has three adjustable height settings.
The design and material of the table prevent the formation of cracks, doesn't chip or peel, and can easily sustain indoor and outdoor environments. Lifetime Folding Tables are protected with a powder-coated and weather-resistant finish.
Features
It can be switched between 22-inch, 29-inch, and 36-inch.
It comes with Superior strength and durability. 
It has a Rust-resistant powder-coated steel frame. 
It comes UV-Protected with High-Density Polyethylene 
It can Comfortably Seat up to 4 people.
The legs of this table are in the Straight Leg Style.
Specifications
Product Dimensions (open): 49 x 24 x 27 inches
Product Dimensions (closed): 48″ L x 24″ W x 2.1″ H
Color: white granite
Shape: rectangle
Item Weight: 24 pounds
Weight capacity: 350 pounds
Rating: 4.5 out of 5 stars
---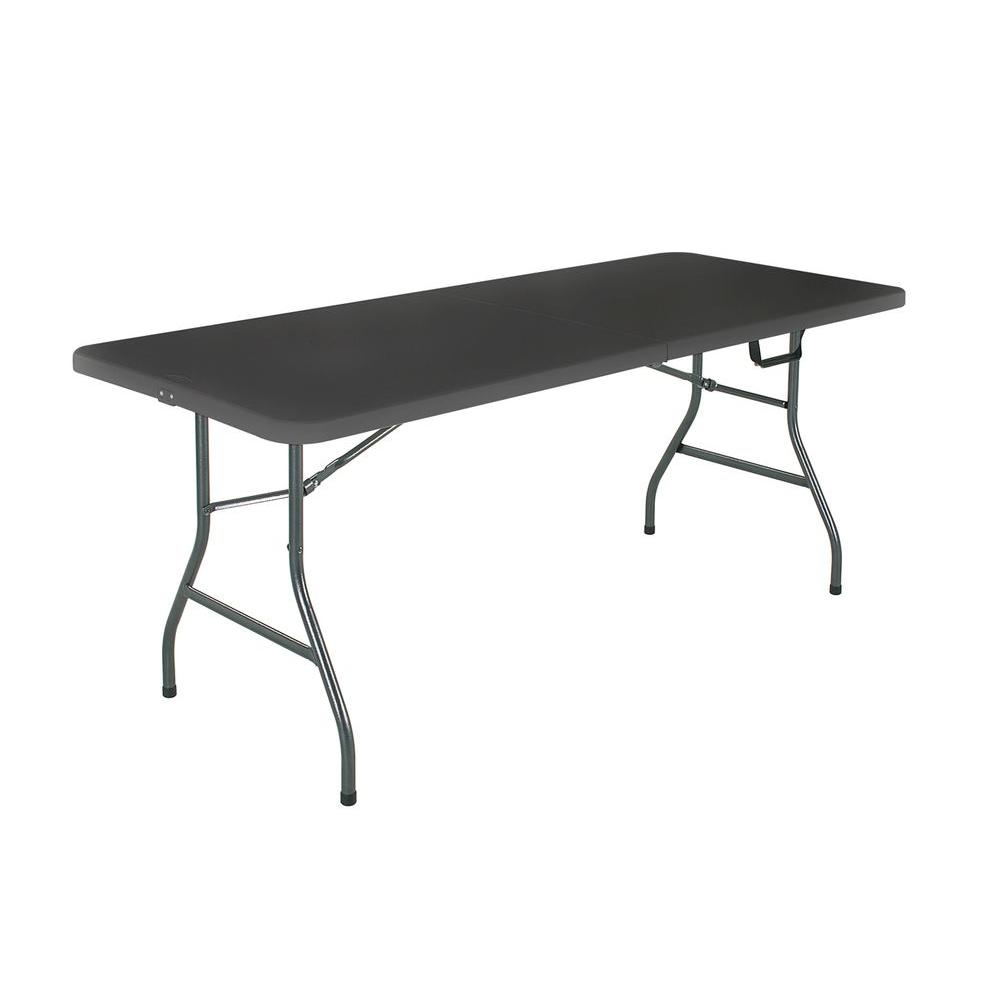 In need of a perfect table for the perfect event? Cosco presents the Deluxe 6-foot, Fold-in-Half, Blow Molded, Folding Table, which is ideal for all your gathering needs. The table is molded from High-Density Polyethylene, which is a premium resin material commonly used for strength properties that withstand all the weather seasons.
As for the folding goes, the deluxe folding table can be folded in the center to lock itself closed and comes with a comfortable handle for easy transport and storage. The design of the table encourages the user to achieve a clean and stain-free tabletop.
Features
The table is suitable for both indoor and outdoor use.
It comes with a Secure Lock.
It has Comfort Handle.
It is An all-season Table Top.
It is lightweight and easy to carry.
The legs come with soft tips ensuring that the floors are not scratched.
A table for easy transportation and storage
specifications
Product Dimensions: 29.5 x 71.9 x 29 inches
Folded Dimensions: 36.5 x 29.6 x 3 inches
Shape: rectangle
Color: Black
Weight capacity: 300 pounds
Item Weight: 26 pounds
Ratings: 4.6 out of 5 stars
---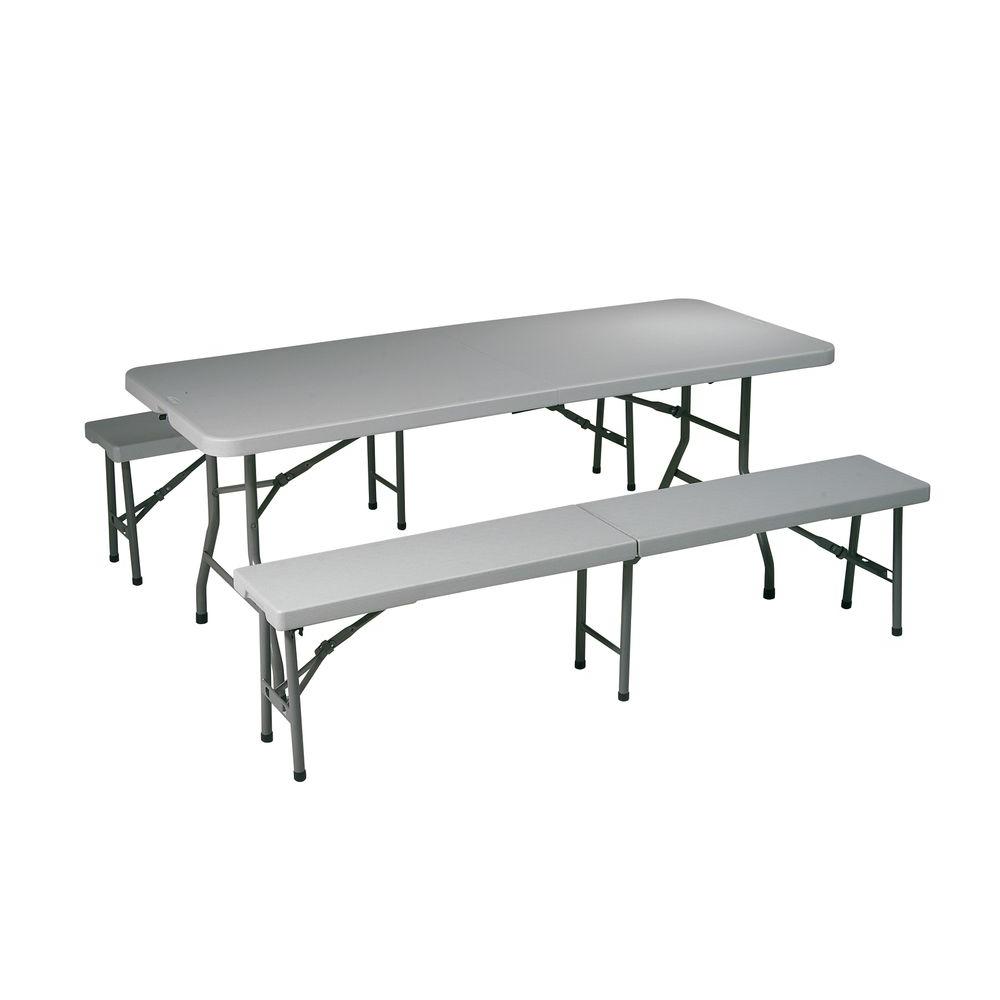 Office Star Resin Folding table set offers a sleek yet multifunctional design that contains a folding table and a bench set. Office Star promises perfection for any occasion, whether it be your workplace or in your backyard! Thus, the three-piece game is an economical and user-friendly option for offices, classrooms, homes, and other events.
The seats are thus waterproof, stainless, scratchproof, and are heavy duty. The table is a 6-foot table made of resin too. The tube frames are coated with dark grey powder to promote low profile and stability. All the pieces can be folded in half, and the legs would tuck inside to create a flat and stackable surface.
Features
The three-piece set contains two backless benches.
The set is made of impact-resistant blow-mold resin.
It comes with Heavy-duty seats for durability.
It is Stainless and promotes easy cleanup.
A Waterproof, scratchproof and impact resistant table
The perfect choice for indoor or outdoor use.
The rubber end caps on the legs protect floors from any kind of scratch damage.
Specifications
Item Weight: 65 pounds
Color: grey
Shape: rectangle
Folded Table: 34″ x 30″
Folded Bench: 36″ x 12″
Table capacity: 350 pounds evenly distributed
Chair capacity: 200 pounds
Table Dimensions: 30 x 72 x 29.2 inches
Bench dimensions: 72 x 12 x 17 inches
Rating: 4.6 out of 5 stars
---
The Iceberg IndestrucTable Folding Table can adjust to almost any function at any time you want. Like many other tables, it is a robust table that is constructed with blow-molded, high-density polyethylene making these folding tables dent-resistant, scratch-resistant, light-weighted, and easy to clean.
IndestrucTable TOO Folding Tables are of the perfect size, and the light weighed table provides the extra space for your parties, games, kids' crafts, home offices or workshops, and so much more. The table is thus the ideal choice for all your indoor or outdoor activities.
Features
It is suitable for heavy-duty applications.
It is adjustable to 22 inches, 25 inches, or 28 inches.
The table is light-weighted and transportable
It is Scratch-resistant and impact resistant
It is Stain-resistant and easy to clean
It is made of high-density polyethylene
A table of Superior strength and durability
It is equipped with tube legs that are charcoal gray powder coated.
It is folded into recessed channels for smooth and seamless storage.
Specifications
Product Dimensions: 30 x 20 x 28 inches
Color: charcoal
Shape: rectangle
Capacity: 250 pounds
Item Weight: 10.01 pounds
Ratings: 4.5 out of 5 stars
---
AmazonBasics brings us luxury Folding trays that are packed with full convenience, elegant style, and full functionality. All the four trays come together in the table Set. Most importantly, the folding trays are made of sturdy wood and are offered in a variety of attractive models, the trays and storage rack can be easily tucked into the hideous corner of any room to be accessed when needed. 
You can indulge in your favorite food, drinks, and activities right from the comfort of your couch with this classic AmazonBasics TV Dinner tray set. Make beautiful memories with the TV folding table set watching the movie, enjoying family mealtimes, or reading the daily morning paper with a nice hot cup of coffee.
Features
A Set of 4 TV trays with matching storage rack.
A Durable wood construction.
It is available in a variety of finishes.
Each tray easily opens and folds flat for storage.
Great for setting food or drinks, or as a work or play surface.
Specifications
Color: Black
Product Dimensions: 19 x 15 x 26 inches
Item Weight: 33.7 pounds
Manufacturer: AmazonBasics
Ratings: 4.5 out of 5 stars
---
Here is the Lifetime 8 Foot Commercial table that is constructed from high-density polyethylene. This beauty features a white granite colored molded tabletop with a grey round folding frame and has a convenient folding design, which enables easy transport and storage.
All lifetime tables are UV protected. They will not crack, chip, or even peel. Not to forget the patented steel frame design, which provides a sturdy foundation. It is protected with a powder coat and weather-resistant finish making it a perfect choice for your next event or group gathering.
Features
It is built with high strength low alloy steel frame.
Also made of High-Density Polyethylene.
The table has impact-resistant corners.
It comes with superior strength and durability.
The folding table has a lightweight design.
It has a comfortable carry handle to make it easy for anyone to set it up and take down.
A table with UV protected top.
Specifications
Color: White Granite
Shape: rectangle
Product Dimensions: 96.4 x 30 x 29 inches
Item Weight: 47.1 pounds
Ratings: 4.5 out of 5 stars
---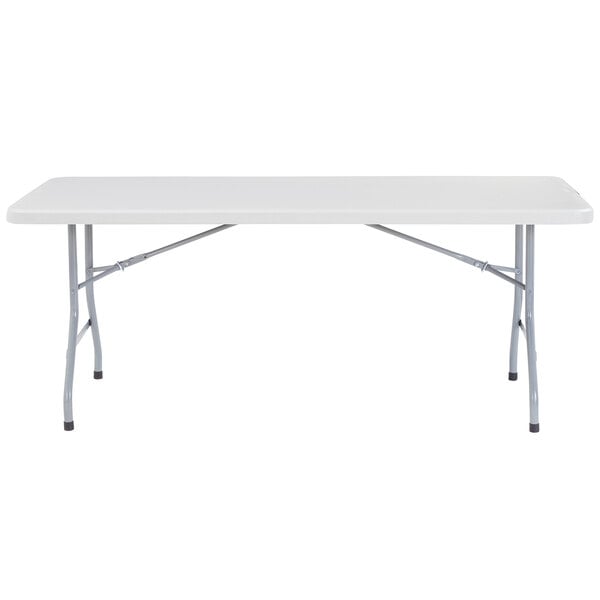 Introducing the National Public Seating from the BT3000 Series. This fantastic folding table is a steel-framed, rectangular blow-molded plastic top, the table that has a speckled gray, UV protected plastic tabletop. The UV protection on the top helps the Heavy-duty table to withstand heat up to 212 F. This prevents damage by hot plates or coffee cups.
When the legs are opened, the gravity lock rings action to keep legs open when upright. When folded, the legs coincide with the indentations in the bottom section of the table.
Features
It can Withstand Heat Up To 212 Degrees F.
It uses Gravity Slide Lock, snap action feature.
The surface is lightly textured to increase scratch resistance.
The gray steel legs are powder coated for corrosion resistance.
It has a smooth surface.
Plastic caps on the feet help protect floor surfaces.
Specifications
Product Dimensions: 72 x 30 x 29.5 inches
Item weight: 35 pounds
Color: speckled grey
Shape: rectangle
Weight supported: 1,000 lb.
Frame material: 17 gauge steel
Leg material: 18 gauge steel
Ratings: 4.4 out of 5 stars
---
Need more assistance in choosing your best folding table?
Our pick for the best folding table out there
We believe in the LIFETIME 80251 Adjustable Folding Laptop Table TV Tray. This table is absolutely fantastic when it comes to erecting and folding it. From all the others out there, this table has the best ratings, and we love its outstanding features and benefits.
The best portable folding table for you
Customers say that the handle in Cosco Deluxe 6 Foot Blow Molded Folding Table is extremely helpful for carrying, and the sides keep the table locked when not in use. This allows us to use the table in a lot of situations without worrying about transporting it.
The best folding table in the Lifetime series
LIFETIME is the most trusted brand out there. That is why we believe in 80251 Adjustable Folding Laptop Table TV Tray to be the ideal choice. The table is very sturdy and folds flat evenly. The legs are stiff and supported with spring mechanisms.
Looking for the best six-foot folding table?
Then you are looking for the Cosco Deluxe 6 Foot, 30-inch Fold-in-Half Blow Molded Folding Table. The table requires no assembling and folds up evenly. It has just the perfect height for all daily activities. More than 80% of the customers gave it a 5-star rating!
The Lightest table is just 8.6 pounds!
The LIFETIME 80251 Adjustable Folding Laptop Table TV Tray is the lightest folding table, and we love it! Customers say the table is just the right size and they absolutely love the thick white wipe clean tabletop. More than 87% of the customers love this table!
Which is the best height adjustable folding table?
Many love the height settings of the Lifetime 4428 Height Adjustable folding table. The table comes with three adjustable settings: 24-Inch, 29-Inch, and 36-Inch. It features a comfy carry handle and folds in half. This turns out to be a popular choice among customers.
Which is the best picnic folding table?
According to the top choice of customers for the best picnic folding table, we believe the best folding table is the LIFETIME 60239 Kid's Picnic Table. The table is very practical, nice looking, and doesn't undergo decoloration under the sunlight. Kids love it!
The cheapest folding table is under $50!
Lifetime 4428 Height Adjustable Folding Table is the most affordable table under $50. This table is the most simple and practical table under this range. This table is the cheapest height adjustable folding table.
Want a round folding table?
The 4 feet Lifetime 280064 Light Commercial Fold-in-Half is the perfect choice for Round Table lovers. The table is a brilliant choice for a dining table for 5 adults. The size is perfect for family needs and it is easy to move around.
The Best high-quality folding table we trust!
According to the top choice of customers for the best high-quality folding table, we believe the best folding table is the Office Star 6′ Resin Center Fold table. The table is used by many in gaming setups, kitchen purposes, and for sewing machines.
In need of the best lifetime 8-foot folding table?
The beautiful White Granite Lifetime 80733 Fold in Half Banquet 8-foot folding table is all you need. The table can seat up to 8 adults and the make of this table makes it the most favorable for conference meeting tables.
Did you know? Folding tables can hold up to 1000 pounds!
With the growing demand from customers, folding tables now come in a variety of shapes, materials and sizes. Usually, Lightweight tables can hold up to 100 pounds, which is perfect for street vendors and lightweight objects. Midweight tables can hold up to 300 pounds, and heavyweight folding tables can hold up to the weight of 1,000 pounds. Thus folding tables have replaced many regular tables in many situations.
Conclusion
By now, you must have realized how simple folding tables play a significant role in our day to day activities. Be it decorating your living room, storing that extra food supplies, for your crafts, homework or laptop, for your kids to sit and enjoy their favorite meal, merely sitting on the couch to have drinks, selling your food supplies as a street vendor, holding out your new coffee brand in a café, Offices, party events, picnics and much more.
You need a folding table, whether you realize it or not! Be it today or tomorrow, but one day, you are going to appreciate the benefits of investing in a folding table. Folding tables are genuinely the most convenient and versatile products out there. Their flexibility and portability make them the best choice over a regular sturdy table.