In the era of the selfie world, you need the best equipment for clicking perfect pictures. GoPro selfie sticks are becoming innovative, affordable, and tempting for purchase. Best GoPro selfie sticks initially designed to take photos and record videos in extreme conditions. It seems that GoPro has surpassed both expectations and purpose. We commonly see bloggers, skaters use GoPro, but it is also designed for people who are not professionals because they are so handy and easy to use. It allows the person to take their selfie and make videos. It eliminates the need to ask for a professional photographer to take a picture of yours.
Though there are a few dedicated selfie sticks for GoPro cameras, also there are combo ones that work with them. A selfie stick should be adequate to hold the GoPro and provide desirable service to avoid any accident.
And to make it easy, we have selected 11 different selfie sticks that work with GoPro action cameras. Here is the best GoPro selfie stick according to the ratings of the consumers.
As the name 3-way suggests, this GoPro can be used mainly in three ways– as a camera grip, extension arm or Tripod. The unique feature of the folding arm makes it easy to capture selfies without any interference of the mount. It provides you with a superb and convenient way to take a selfie with GoPro. With this light and affordable GoPro, sticks you can capture every memory. This versatile mount stick can be used by the users in three different ways: as a camera grip, extension arm or Tripod. The folding arm makes it easy to capture selfies without appearing the mount in the shot. 
Features:
3 in one design-Grip, Arm, Tripod.
Lightweight.
Waterproof: Can be used in water without any tension.
Measurement: 20 inches when it is fully extended, collapses to 7.5 inches
Package details: One extension arm, grip, tripod, thumb screw.
Configurable for a wide range of uses for capturing POV footage and selfies.
Specifications:
  Product Dimensions : 8.7 x 8.7 x 2.4 inches
 Item Weight : 10.6 ounces
 Shipping Weight: 12 ounces
 ASIN: B00KCX8H6E
  Batteries: One Lithium-ion battery is required.
Ratings: 4.4 out of 5.
Color: Black
---
As the name El grande means, "the big one." So those who are interested in exploring outside activities and capturing the memories, this best GoPro waterproof selfie stick will surely catch all the moments for you. It is an aluminum extension pole of 38in (97cm) in height, which is also collapsible down to 15in (38cm) for on-the-go use. This makes your GoPro utilize its true potential by letting you capture amazing shots.
Features
Extends to 38in (97cm) and collapses to 15in (38cm), extremely portable
An integrated ball and socket design at the end of the pole, allowing you to make adjustments or swing your GoPro 360 Degree without having to stop and unmount your camera
Its oversized grip allows the user to use two hands to hold comfortably.
It Contains a twist-lock design for quick and comfortable use.
Durable and waterproof.
Excellent for all the adventure sports, Paragliding, bungee jumping, skiing, cycling, etc.
Specifications:
Product Dimensions: 14.6 x 1.9 x 2 inches
Item Weights: 13 ounces
Shipping Weight: 1.15 pounds
Extends to: 97cm
Reviews: 4.5 out of 5
Colour: Black
---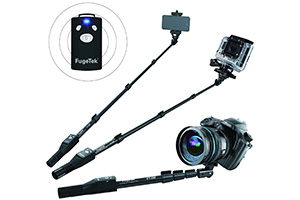 This is where things go on another level, and this selfie stick is so highly adjustable that it enables the user to integrate a DSLR into it. This is designed for the fun functionality and performance. This flexible and removable mount is compatible with your phone. In this latest updated model FG-568 Selfie Stick, you get two removable Interchangeable Mounts, one Mirror Mount, One Screw Tight Mount.
Features:
Ultra Extendable To Industry High 49″,
Quick Flip Locks with tough Aluminum alloy,
Non-Slip Grip Rubber Handle,
Ensures Wobble Free Photos,
On the Bottom Of Handle, there is a mount tripod With 1/4″ Screw.
You get two different mounts which protect your camera and phone from slipping.
Fits All Smartphones,
Don't Risk Your Phone With Flimsy Sticks,
Our Bluetooth Uses Broadcom Inc Chips;
Rechargeable Battery,
Never Replace Batteries.
1-hour full charge, 300-hour standby
Compatible With Most Apple iPhones and Android Samsung (Galaxy, Galaxy S, Galaxy S10) 4.3 Or Newer. (iOS has no zoom feature.)
Specifications:
Product Dimensions : 2 x 16 x 3 inches
Item Weight: 9.6 ounces
Shipping Weight: 1 pound
Batteries: One lithium Polymer battery with two new removable, interchangeable mount
Rating: 4.5 out of 5
Color: Black and silver.
---
This Flexible Selfie Stick has a flexible ball head mount for 360-degree rotation and with the feature of a fast locking system. It can easily be adjusted to your desired angle. To change to your desired length, simply twist counter-clockwise and release, choose your desired length, and rotate clockwise to lock. It is made of high-quality aluminum tubes for durable use designed for extreme sports. There is a tripod stand for any monopod with 1/4″ screw port at the bottom. It is durable because of its high-quality aluminum tube. You can use it for your extreme sports and capture your courage.
Features:
The right partner for travel with flexibility.
Quick length adjustments from 11.8″to 36.6″,
360-degree rotation for your cell phone and camera to pic the best shoot,
Compatible with almost every phone.
Specifications:
Product Dimensions : 13.5 x 2.6 x 2.3 inches
Item Weight : 1.01 pounds
Rating: 4.5 out of 5
Package includes One SmaPole Q1 with the cellphone holder, tripod stand, tripod mount, thumbscrew, and one wrist strap.
---
An ideal adventure sports camera partner with so many advantages. High-quality extension selfie stick, compact and lightweight enables the user to use the GoPro at its fullest. Another great feature is that it is compatible with all the GoPros, so integration isn't an issue. This best GoPro waterproof selfie stick is compact and lightweight. You can easily carry this while traveling. Due to its premium design, it is highly appreciated and becoming the prime choice of the users.
Features:
Upgraded Rust -Proof Screw Nut and Locking Screw
Soft Rubber handle
Robust Aluminium Alloy Tube
Comfortable Wrist Strap
Well polished Aluminium Alloy Bottom with expandable quality
Convenient twist-lock feature; with three expandable sections
Compatible for all the GoPro cameras.
Allows quick, lengthy adjustment and secure twist locking.
Specifications:
Product Dimensions : 7.5 x 1 x 1.5 inches
Item weight: 5.3 ounce
Rating: 4.6 out of 5
Extended up to: 7.5 inches to 20 inches
Color: Black
Weighs: 0.33 pounds
---
Now no more asking to take pictures with the help of others. The best GoPro selfie stick procures you many features. The Matone Versatile Bluetooth Selfie Stick Tripod has an in-built Bluetooth shutter that connects quickly, provides the range and angle which is required for a good photograph. It's made up of a premium ABS+PC tripod stand and durable aluminum alloy with an extensible body. Though the selfie stick is light yet, it is durable. There is an adiabatic phone holder covered by a soft silicone interior to protect your phone from any scratches, and there is anti-slip rubber support for extra stability to the tripod leg.
Features:
Folded height: 7.87."
Maximum length: 28.74"
Weight: 5.47oz
Material: ABS, Aluminum alloy
Bluetooth version: Bluetooth 3.0
Bluetooth range: 33ft
Charging time: 30-45 minutes
Internal battery: Internal 65mAh rechargeable battery provides 50000 selfies after a full charge.
The adjustable phone holder stretches from 2.17-3.35 inches.
There are three ways to rotate the selfie stick.
Specifications:
Product Dimensions : 7.8 x 0.7 x 0.7 inches
Battery: 1 Lithium Polymer battery
Item weight: 5.6 ounces
Color: Black
Battery capacity: 65mAh
---
The Yun Teng Selfie Stick,45 Inch, is made up of a metal body having a folded size of 8.7 in and can be extendable up to 44.5 in, weighs slightly below 200g (198g), and has a phone remote. It enables users to have a good experience overall. We are glad to share this excellent product from GoPro that allows you to take photos creatively. For the best result, you can adjust it, and also it is foldable.
Features
All-in-one professional design
60mAh rechargeable battery inside.
Ideal GoPro Installation
Innovative phone holder
Super lightweight aluminum material makes it convenient to carry.
An ideal GoPro installation facility is available for outdoor and indoor use.
Innovative phone and tablet holder of 0- 0.55 in thickness.
Charging time: 45-60 min.
Shooting time: 20-25 min.
Specifications:
Product Dimensions : 9.2 x 2.3 x 2 inches
Battery: one Lithium Polymer battery.
Colour: Black
Weighs: 7.4 ounces
8.7″ folded size and 44.5 extensions size.
Rechargeable Wireless Bluetooth remote.
Rating: 4.3 out of 5 and 5 full ratings for battery life.
---
As the name suggests, GoPro Shorty Mini Extension Pole Tripod is short and portable but provides many features like other GoPro selfie sticks. Shorty the best GoPro mini selfie stick. It's compact, and eye-catching design makes it ideal for taking along for just about any casual activity. Toss it in your pocket on your way out the door, and you'll have the perfect little partner with yourself. You just need to position your camera and get the best shot.
Features:
The pocket-friendly- 11. 7cm
Extendable up to 22.7 cm
Tripod stored inside the handle
This includes a one-year manufacturer guarantee.
Specifications:
Product Dimensions : 1.1 x 1.3 x 4.6 inches
Item Weight: 2.24 ounces
Colour: Black
Rating: 4.4 out of 5
---
If you want an adjustable Bluetooth selfie stick, which is portable also than what is better than MFW extendable monopod tripod, here is another one of the best GoPro wireless selfie sticks which match with your demand. The difference with other selfie sticks is that the MFW Bluetooth selfie stick is 15 inches to 59 inches of elongation. It is long enough to get a large group photo.
Compatible for a variety of mobile devices: Most suitable for 4.72 to 7.87 inches of Tablet and PC while 2.75 to 3.74inch for smartphone and tripod.
Features:
Adjustable Height
Bluetooth Remote Control
Stable Tripod(10.1-INCH)
Hassle-Free Warranty
The remote control's sufficient distance up to 30 feet that is compatible with IOS, Android, and digital cameras.
The remote control is clipped with a selfie stick at the handle. When you have to use the selfie stick separately as a tripod, It also can be taken off from the holder.
More extended wider tripod, which is steadier also.
Specifications:
Product Dimensions : 15 x 4.7 x 1.6 inches
Item Weight : 1 pound
Rating: 4.3 out of 5
Colour: Black
---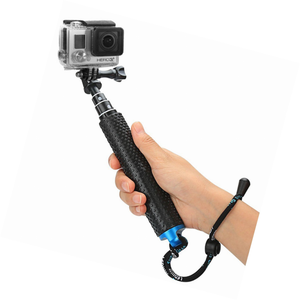 The FORETOO selfie stick made with soft rubber grip making it comfortable to grasp and hold. They are specially designed with a rust-proof long screw and nut. What makes it stand out is it's compact: lightweight and waterproof design, also the added feature of easy extend, makes it portable quickly. It's durable due to the high quality of the aluminum tube. It contains a comfortable strap with an adjustable toggle to keep the monopod secure to your wrist.
Features:
Easy twist to extend
Compact design & Lightweight
Waterproof design
Design for GoPro
Comfortable Wrist Strap
Well polished Aluminium Alloy Bottom
The best GoPro rechargeable monopod extends from 7" inches to19" inches
Specifications:
Product Dimensions : 7.5 x 1.2 x 1.5 inches
Item Weight: 5 ounces
Rating: 4.3 out of 5
Package contains: 1 FORETOO 19" Stick with one Secure Wrist Strap, Rust-Proof Screw, and Colour Box
Soft Rubber Handle.
---
SANDMARC Pole – Black Edition is made up of waterproof aluminum materials, rubber grip to withstand extreme conditions. It extended from 17 to 40″ inches. It's a feature to integrate with all GoPros that makes it stand out among its competitors. It is compatible with all GoPro cameras, including the newly launched ones. It attracts consumers with its secure locking mechanism. It has versatile options and can be used in family functions, adventure sports.
Features:
Retracted Length: 17″ and Extended Length: 40″
Weight: 8.5 ounces / 0.25 kgs
Secure Locking Mechanism
Adjustable Wrist Strap
Specifications:
Product Dimensions : 3.2 x 1.8 x 17 inches
Item Weight: 9 ounces
Rating: 4.3 out of 5
All black aluminum build.
---
Is the GoPro selfie stick waterproof?
Yes, the portable GoPro selfie sticks are waterproof, but some are not. You can take this affordable stick with yourself anywhere. We have to see the description in detail while purchasing the stick.
What is the blue button on the GoPro stick?
The blue button indicates the power button in the sticks. It is simple to use. You simply turn it on connecting your device via Bluetooth, and you are good to go.
How many types of selfie sticks are present in the market?
Mainely, there are three types of selfie sticks which are commonly used and available in the market.
Bluetooth stick
Manual and
Cable selfie stick
Bluetooth selfie stick: This stick is comfortable and relaxed in use as it operates via Bluetooth. This stick either comes with a remote or a button on a stick. All you have to do, connect your device with Bluetooth and press to take the photo.
Manual selfie stick: This stick is a bit harder than the previous ones. This operates manually, which means you need to set up the camera timer and tap on it every time before clicking the picture.
Cable selfie stick: This stick comes with the small cable which you need to plug in your mobile phone. For taking photos, you only have to click on the in-built button on the stick.
How does a selfie stick work?
A cable selfie stick comes with an aux cable. You only have to attach the smartphone to the mount and then connect the aux to the headphone jack of the phone. Once connected, the selfie stick allows you to capture shots by pressing the button on the handle. A wireless selfie stick works using a Bluetooth connection. It comes with a rechargeable Bluetooth shutter remote that allows you to click the shots. It is comfortable because of its wireless facility.
Which is the best selfie stick?
We provide you with a list of the best Selfie sticks. Some features of the selfie stick make them best. Some of them are as follows:
1. Lengthy Stretch:
Always prefer ideal length that is neither too far for making awkward pictures that you need to crop nor too short that the frame is small. When you unfold the stick and stretch it, it should be at the very least 1 meter or 3-4 feet in length (40 inches).
2. Proper Thickness of the stick:
When you expand the stick, it should be thick enough, so it gives stability and does not cause imbalance to your hands while you take a picture or shoot a video.
3. Better Build Quality:
Good quality sticks do not break easily and they could be handled with freedom during outdoor use. A right selfie stick should give you at the very least 2 years of life.
5. Has Great Connectivity and Connectivity
We are talking about the primary connectivity wire, while Bluetooth connectivity is a great add on. The cable that connects your device to the selfie stick should have more comprehensive connectivity and have great strength. It should support all devices. When you are out with your friends/family, almost anyone should be able to use this stick easily.
Conclusion:
When we are ready to go out for a trip but unable to capture the memories. Here is the solution, we are providing you some of the best GoPro selfie sticks which are waterproof and easy to handle. GoPro selfie sticks and tripods are solutions. We are here to help you make the right decision. Make sure to read the specifications of the product before you order it! If you're the type of person who forgets a camera or selfie stick and don't keep it close, consider buying something with a wrist strap. It's a common feature in portable or collapsible selfie sticks, and GoPro provides this facility.