INTRODUCTION
We are living in an era of constant innovation and high technology upgradation. Everything at home, work, and recreation have been updated. Be it your top of the line phones and laptop, entertainment that's personalized and speedy, cars that can drive themselves, things are changing and getting automated quickly. One such quaint product is LifeFuels Smart Water Bottle.
If you are a fitness enthusiast and want to add a smart and savvy touch to your lifestyle, this stylish water bottle is perfect for you!
What does the Smart water bottle do?
In simple terms, this product upgrades your regular drinking water by infusing flavor, electrolytes, and vitamins, and nutrients. The FuelPods that are to be inserted at the base of this bottle are concentrated solutions of flavorful vitamins, electrolytes, and nutrients that are mixed with the water at the push of a button, converting regular, boring water to your favorite beverage. 
Idea behind the Lifefuel bottle
LifeFuels is all about physical and mental fitness and was founded by Jonathon Perelli and Rob Lawson-shanks. The LifeFuels Smart Water Bottle was Jonathan Perelli's brainchild. He noticed that his pregnant wife, who had to manage two small kids, was struggling with hydration issues in the fast-paced daily life. 
With the problem statement at hand, he began thinking of a better way to keep track of the hydration and electrolytes in the body in 2006. With not enough technological advancement to augment his solutions, the idea for this smart water bottle remained a design until 2014, when Co-Founder and CTO Rob Lawson-Shanks backed Jonathan Perelli. This was the birth of LifeFuels Smart Water Bottle. 
Why LifeFuel bottle?
The body is a delicate balance of electrolytes, and shifts in this balance cause various adverse effects. For example, low levels of Sodium and high levels of potassium can cause dehydration and excess loss of water this may even lead to a change in skin color. To maintain and look after such intricate balances, it does not seem enough if you have vitamin tablets. 
With everyone leading fast-paced lives that often leave you exhausted, undernourished, and tired, it is crucial for you to have a quick, foolproof solution to take care of your body better and keep it in good shape despite the exertion it undergoes. One main issue that needs resolving is the electrolyte-fluid balance of your body. 
With LifeFuels Smart Water Bottle, you can track the fluid-electrolyte balance of your body with their App. This app charts your electrolyte, vitamin, and water levels and keeps updating you about the progress you can make with respect to taking care of your body. The smart bottle is connected to your phone via Bluetooth and communicates the contents that quench your thirst and chart them for your perusal.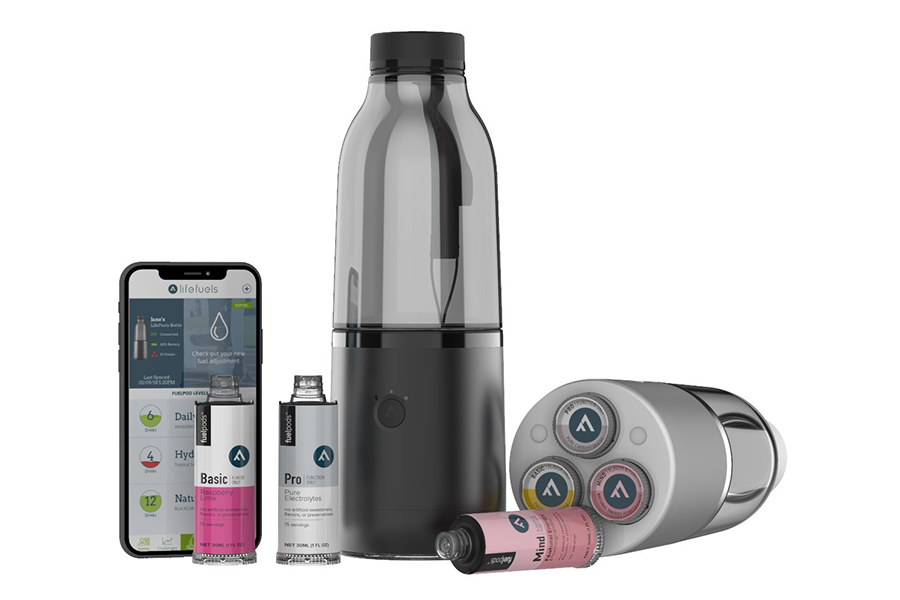 How does the LifeFuels Smart Water Bottle work?
The Smart water bottle can hold 16.9oz or 500ml fluid in the transparent tank on the top. The base has three tubes like structures under it into which the FuelPods fit.
Once you fit the FuelPods in, you need to press the button, and the smart bottle extracts one drop of the concentrate in the fuel pod and effectively diffuses it into the water, thus nurturing it. 
You can allow it to rest for a moment or two for better mixing before you sip from the bottle and get refreshed and rejuvenated from the beverage that you were served with instantly.
It is not poisonous to your body like artificially synthesized beverage concentrates. In fact, the effect is quite the opposite! 
The main advantage of this bottle is while your beverage tastes as good or better than most synthetic beverages available in the market. It is healthier and filled with nutrients that nourish your body and keep you hydrated.
The second advantage is, you don't have to give through with a lot of mechanical stirring or waiting time for uniform dispersal of the concentrate.
You have your drink within seconds and just at the push of a button that too! No delays, no waiting! 
FEATURES OF SMART BOTTLE
The bottle can hold 16.9 oz of water.
The smart water bottle is leak proof.
The battery lasts four days.
What are the FuelPods?
The FuelPods are concentrated solutions of flavored electrolytes, vitamins, etc. They come in many flavors like 
Lemon Lime
Blueberry Acai
Guava strawberry
Orange Tangerine
Peach
White Grapefruit Citrus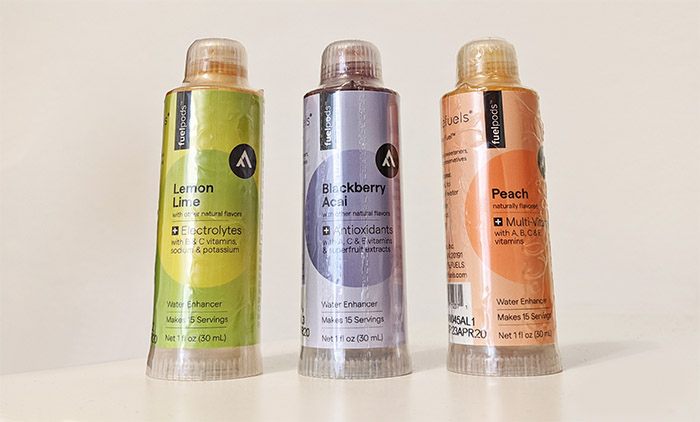 What is special about them is that each one of them is a recipe for a different wellness strategy. Like, for example, the Blueberry Acai is for Antioxidants; Orange Tangerine is for immunity; strawberry Mango is for energy; White Grapefruit Citrus for focus and so and so forth. 
The overall aesthetic to the concept of associating different fruit cocktails with wellness strategy is unique. And this, combined with the idea of The smart water bottle, makes the LifeFuels Smart Water Bottle as a trendsetter in the era of self-care.
The taste and flavor of these FuelPods are exquisite. With new and innovative combinations, they are sure to be a pleasant surprise to your taste buds while being packed with health and fitness. They are perfect for children who refuse to drink water and always ask for sweet and colorful drinks too!
The FuelPods each serve 15 drinks, and with 3 FuelPods, it is 45 drinks. However, the refill FuelPods need to be bought so that your body stays replenished with nutrients and antioxidants. Aside from the appeal of having state of the art beverage concentrate, the one main drawback that pulls LifeFuels FuelPods is their expensiveness and the little quantity of concentrate that customers have to purchase each time they run out of it. 
FEATURES OF FUELPODS
The FuelPods come in many different flavors.
Each flavor is targeted towards one particular avenue of betterment of the body.
Each FuelPod serves 15 drinks.
The Smart Water bottle holds 3 FuelPods.
The LifeFuels App
Along with the Smart Water Bottle and the FuelPods, you also get an app that detects the fluids and their levels in your body. The data is visually represented in an easy, understandable form, and this allows you to further plan your consumption of liquids to achieve a Zen state of the body. 
The chart is updated every time you sip from the smart water bottle to the upgraded water, and the trajectory is renewed for an even better, healthier body. The app is real-time and is connected to the LifeFuels Smart Water Bottle via Bluetooth.
One bad news for android users is that only a beta version of this app exists for Androids. However, a perfectly compatible version of the app is available to iPhone users. The good news is that the company, LifeFuels, has promised a better version of its Android using customers. 
FEATURES OF THE APP
This app charts the body's electrolyte-fluid levels.
The data is charted as graphs for the ease of the user.
This app is real-time transmitting.
The app connects to the phone via Bluetooth.
The app is compatible with iPhone.
Only the beta version of the app exists for android.
SPECIFICATIONS OF LIFEFUELS THE SMART WATER BOTTLE
Rating: 4.5/5 stars.
Item weight: 2.7 pounds.
Product dimensions: 12.75 x 7 x 3.75 inches.
Average Battery Life: 4 days.
Colour: Black.
Battery type: USB rechargeable.
Charging and Cleaning of the LifeFuels Smart Water Bottle.
This Smart Water Bottle is definitely one of a kind, but you will be surprised by how easy it is to care for. The Battery of the LifeFuels Smart Water Bottle lasts for four days before it requires recharging, although running out of charge won't affect its water holding capacity, you might have to wait for your nutrition charged beverage. 
The Bottle comes with an adapter and a USB charger. When you plug it in, the bottom glows orange, and the 100% battery is indicated by a green glowing halo around its base. 
Some may think that charging this device once in four days is a hassle. It doesn't inject the flavoring FuelPods drop unless it's sufficiently charged. However, you could charge it in the car on your way to work or at the gym while you are working out if you forget to charge it at home. Since the cable is USB, you can recharge it from a PC too! 
As far as cleaning is concerned, the top clear tank can be washed with soap and water. However, the FuelPod holding base cannot entirely be cleaned as thoroughly, mainly because of the circuitry involved. However, you can wipe it off. The Package does come with a cleaning sponge that will allow you to clean hard reach places.
The LifeFuels Smart Water Bottle can definitely accompany you no matter where you go. Its design is eye-catching and fashionable. Whether it is a yoga studio or trekking, meeting at your work, or even only at home, they have unique FuelPods that augment your physical and mental capacity, heighten your well being and provide a pleasant tasting drink in just seconds!
What problems does the smart Bottle face?
However, some may think that the LifeFuels Smart Water Bottle Price is just too high for a water bottle! Sure, it is not a regular water bottle, but still, it does seem expensive. In addition to the cost of the bottle, the FuelPods cost a lot for just 15 servings, and they need to be replenished periodically. Maybe you won't have flavored drinks every time you drink water, but it does help break the routine. 
Aside from the LifeFuels Smart Water Bottle Price, the capacity of the Bottle seems to be less. 16.9 oz is less when you consider the prescribed consumption of water every day is four times more. The FuelPods are expensive, but besides that, the sweetness and flavor of your drink cannot be controlled. 
The LifeFuels Smart Water Bottle app is perfectly compatible with the iPhone. However, only a beta version exists for Android, which is a bit sad. The app is interactive and uses graphs and pictorial representations of the data it gets to convey the fluid levels in your body. However, it is a little slow and definitely needs more updates in the future.
CONS:
The bottle can hold only 16.9 Oz or 500ml.
The Smart Bottle and the FuelPods are expensive.
The FuelPods serve only 15 drinks.
Flavour or sweetness cannot be controlled.
Where can we buy LifeFuels Smart Water Bottle?
The LifeFuels Smart Water Bottle is exclusively sold at its home website where you can find all kinds of the different variants of FuelPods too. In addition to that, you can also get extra merch for your very own smart water bottle.
Amazon retails this fantastic product, too, with shipping to most countries.You can find the unique concoctions of the different FuelPods on amazon too! It is that simple to procure this smart water bottle.
BEST BUY
Overall, this smart water bottle requires more upgrades before it becomes affordable for more customers. But, it's the world's first smart water bottle! It tracks and informs you about the elevation of different electrolytes such as Sodium, chloride, potassium, etc. in real-time. This feat has never been achieved before except by large medical instruments. This is definitely unique and innovative.
In addition to that, the tasty yet nourishing beverages that this smart water bottle vendors have new and trendy flavors. This smart bottle represents an avenue that hasn't been explored before. 
Who needs this smart water bottle?
With this bottle, it is easy to get your kids to hydrate themselves without using synthetic food flavorings or compromising on the vitamin intake. It is a win-win situation! 
In the era of self-care, a bottle such as the LifeFuels Smart Water Bottle is a blessing for everyone that is into self-care and well being. It does treat your body like a temple, and by showing the progress of your health in real-time, it allows you to reap the rewards of hard work. 
It is a must-have when you are training your body, pushing your limits, working out, and getting fitter and toned. Post-workout sessions, one drink from the smart bottle, will leave you rejuvenated by instantly providing you with energy-boosting elements in a quick and absorbable form. 
The Smart Bottle augments your mental capacity by replenishing your reserves that deplete quite quickly when you do a lot of brainwork. Thus, they keep the brain healthy and nourished, taking away your stress and weariness as you cram hard for finals or push to get your work done to meet deadlines
For pregnant women and people with body conditions like profuse sweating, fatigue, or other medical conditions, this product would help look after themselves on a much more microscopic scale and accordingly change their habits. Although this won't treat medical conditions, it is a small step towards better health! For busy pregnant ladies, this would help them be in the best of their health and provide instant relief against the common signs of pregnancy fatigue and sickness. 
FINAL VERDICT
LifeFuels Smart Water Bottle has a lot to offer but at a high cost. This smart water bottle is sure to be your best buddy through your busy lifestyle. With a stylish exterior and full of goodness, they will keep your body and mind refreshed and rejuvenated without artificial substances polluting your system.
The LifeFuels company does have a long way to improve the smart water Bottle before it is available to the general population. But, in the meanwhile, if you are keen on investing in the betterment of your mind and body, the LifeFuels Smart Water Bottle is the best pick for you!